Nicholas Tyler
I said, "What time is it, Charlie, where did we go all day? We seem to get nowhere and do nothing but sit looking at each other."
He said, "I know, I been doing the same thing for weeks."
--Van Morrison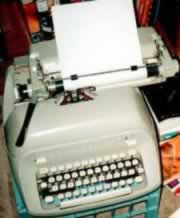 Late In The Day:
I'm embarrassed by this dead HTML.
Time for a radical rethink.
So. What's the point of having a site? I saw a domain a while back that had a picture and two sentences; the picture was of the domain's owner, and the sentences were "Thanks for stopping by. I have nothing to tell you or sell you at this time."
Telling and selling are good, simple words for what you can do with a web site. Recording is another. I like Warren Ellis's site, a link bank and news-feed filtered with a singular vision, spiced with personal anecdote. Not bad, eh?
---
Nicholas Tyler is a struggling fiction writer living in Atlanta, GA.
Email: nickATclockwatchingDOTnet.
East Commons, Georgia Tech Library
Godspeed You! Black Emperor, etc.